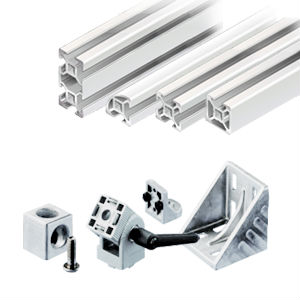 Bosch Rexroth provides everything one needs for aluminum structural framing
Advanced Motion & Controls supplies needs for aluminum structural framing.
For more than three decades, Advanced Motion & Controls Ltd. has distinguished itself as a top provider of factory automation products. One manufacturer whose products are available through the company is Bosch Rexroth – which produces a variety of items for aluminum structural framing.
From connectors and accessories to basic profiles, Bosch Rexroth's line of structural framing products is complete for any task.
From concept to working model
Bosch Rexroth's broad, diverse selection of items for aluminum structural framing can complete virtually any assembly application. Users can put together just about any kind of structure with no need for special tools or skills, from the initial plan to the final model. No painting or finishing is necessary either, as the end product always looks clean and attractive.
Another key benefit of Bosch Rexroth framing products is their endless recyclability. Users can easily change finished structures as their needs evolve, with little time or expense lost. The wide selection of accessories can meet applications ranging from simple frames to multifunctional structures.
Three main categories of building products are available:
Aluminum strut profiles. Advanced Motion & Controls supplies more than 100 types of aluminum strut profiles, in square or rectangular shapes or with flat side surfaces. T-slots of various sizes also available.
Connection elements. Products include bolt connector kits, corner and angle connectors, joining plates, inner and miter brackets, T-nuts, T-bolts and more. Shapes include cube, 90 degrees, and 45 degrees.
Accessories. An impressive range of accessories, such as end caps, wheels, locking castors, door components, hinges, sliders, ball catches, panel mounting, floor-to-frame elements, and roller sliding and bearings.
In addition, Advanced Motion & Controls offers to use Bosch Rexroth products to design and build structures according to client specifications. These include custom workstations, custom machine frames, machine guards and enclosures, and material-handling items like flow racks, carts, and roller conveyors.
About the companies
Bosch Rexroth is an internationally renowned producer of industrial tools and components.
Based in Barrie, Ont., Advanced Motion & Controls has distributed industrial automation products since 1986.
For more information, contactAdvanced Motion & Controls.