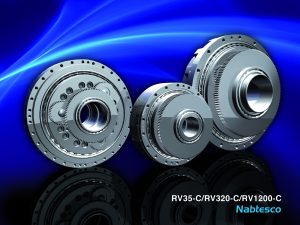 Nabtesco gearboxes offer high performance with extreme precision, low backlash
Nabtesco gearboxes are available via Advanced Motion & Controls Ltd.
Among the many great factory automation products available in Canada from Advanced Motion & Controls Ltd. is Nabtesco's line of precision cycloidal gearboxes. Nabtesco is the world's largest manufacturer of precision cycloidal gearboxes, with equipment that offers large torque, high ratio, and impressive shock-load capabilities with high accuracy and very low backlash.
Nabtesco gearboxes are highly useful for a range of factory applications, including satellite antennas, military defence, robotics, semiconductors, and welding.
Six series of top gearboxes
Advanced Motion & Controls Ltd. carries six series of precision cycloidal gearboxes by Nabtesco, which maintains its position at the top of the precision-gear industry with strong, cost-efficient products. This includes four quick-mounting series:
RD2 Solid. Right angles make this ideal for tight spaces; universal motor shaft connection; minimal assembly required.
RD2 Hollow. Large centre through hole that can accommodate cables, shafts, and lasers; off-centre input offers larger ratio options that enable greater design flexibility for different output speeds.
RS. Cast iron base allows for sturdy floor mounting and right-angle motor mounting for easier access.
GH. Compact, rigid reducer with low backlash and output speed capabilities of up to 250 revolutions per minute. Internal angular support bearings for large moment capacities.
Nabtesco also produces two series of custom-mounting gearboxes: the RV-N series, with state-of-the-art reduction gears that can be used in many industries; and the RV-C series, a hollow-shaft reducer with a centre through hole and internal angular support bearings that provide large moment capacities.
The precision cycloidal gearboxes from Nabtesco come with a wide range of benefits for users, such as high reliability, rigidity, high precision, heavy load support, easy installation, compact design, and customizable variations. Pin gear mechanisms make reduction gears more difficult to break than standard epicyclical gears, thus minimizing the risk of breakdowns, and these gears also save space, reduce costs, and enable better routing of cables.
For a better look at how Nabtesco gearboxes work, watch this brief video:
For the highest accuracy and precision, trust Nabtesco.
To learn more, contactAdvanced Motion & Controls.