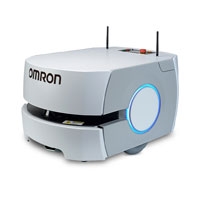 OMRON mobile robots make moving from point A to B safe and easy
The LD from Omron, available from Advanced Motion & Controls Ltd.
As a top Canadian distributor of factory automation products for more than 30 years, Advanced Motion & Controls Ltd. offers the latest breakthroughs in robotic systems. One manufacturer whose products the company supplies is OMRON, which prides itself on innovative products, including its line of mobile robots.
The OMRON LD mobile robot is a self-navigating Autonomous Intelligent Vehicle (AIV) designed for dynamically moving material in challenging environments that may include confined passageways, as well as dynamic and peopled locations.
Two distinct designs
The LD series consists of two different types of AIVs:
OEM – available in two sizes: the LD-60, capable of carrying a load of 60 kilograms and moving at 1.8 metres per second; and the LD-90, which can carry up to 90 kilograms and move as quickly as 1.35 metres per second. Each comes with a docking station kit and a starter kit with battery power cables, a joystick, and a top plate.
Cart Transporter – the LD-105CT can carry up to 105 kilograms and has a maximum speed of 1.35 metres per second, while the LD-130CT can handle a maximum load of 130 kilograms and move up to 90 centimetres per second. Equipped with touchscreens, side lasers, battery power cables, joysticks, carts, and MobilePlanner software.
OMRON's LD robots also have onboard lasers with Acuity localization, a system that helps the device adjust to environments that often change. The laser identifies overhead lights and overlays the light map with the floor map. Localization is especially convenient for large warehouses with wide-open areas, enabling the AIV to move easily and quickly.
Another prime advantage of the LD series is its safety compliance. OMRON's mobile robots have sensors in addition to their onboard lasers to detect obstacles and trigger stops to avoid collisions. Sensors are located on the front, rear, and sides.
The LD robots use Enterprise Manager, a network appliance that can manage a whole fleet of AIVs by coordinating them while providing traceability, communications, job allocation, and traffic control.
OMRON's expertise in sensing and laser technology makes the LD series the most advanced mobile robots on the market.
To learn more, contactAdvanced Motion & Controls.