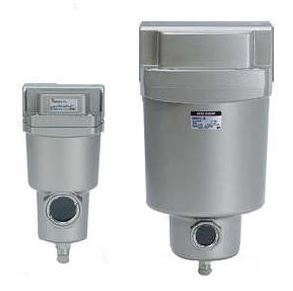 AMG water separators from SMC remove water from compressed air
SMC Corporation's AMG line of water separators, available from Advanced Motion & Controls Ltd.
One of the industrial manufacturers whose products are available in Canada from Advanced Motion & Controls Ltd. is SMC Corporation, which produces a wide range of pneumatic and electric automation equipment for the automation sector. This includes SMC's AMG line of water separators, designed for removing water droplets in compressed air.
AMG water separators are installed on air-pressure lines for water removal. SMC recommends this instrument for applications in which compressed air does not need to be as dry as an air dryer would make it.
A 99 per cent rate
This brand of water separator is capable of a droplet-removal rate as high as 99 per cent when used exclusively for removing water drops within ample interior space. It is important to note that the AMG separator can remove water droplets, but not moisture, from compressed air.
Seven different sizes of these water separators are available from Advanced Motion & Controls Ltd., with rated flows ranging from 300 to 12,000 litres per minute, port sizes from 1/8 to two, and masses from 380 grams to 10.5 kilograms. Each has an operating pressure ranging from 0.05 to one megapascal (MPa), a proof pressure of 1.5 MPa, an operating temperature range from five to 60 degrees Celsius, and an element life of two years or when the pressure drop reaches 0.1 MPa. A bracket assembly with two mounting screws is also available.
The AMG water separator consists of an aluminum, die-cased body and housing and tempered-glass sight glass. Accessories include auto drains for all models except for the AMG650.
Like all SMC products, AMG water separators comply with high international quality standards. The manufacturer has earned ISO 9001 and ISO 14001 certifications, and it has developed a complete structure for quality and environmental control. SMC products also conform to international safety standards by such organizations as CSA Group, UL, and Conformité Européenne.
Trust AMG water separators for dryer compressed-air pressure.
About the supplier
Based in Barrie, Ont., Advanced Motion & Controls Ltd. has distributed industrial automation products for more than 30 years.
To learn more, contactAdvanced Motion & Controls.