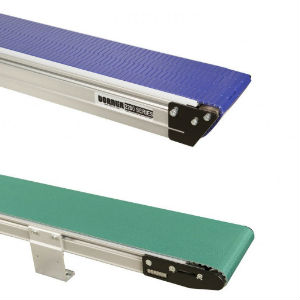 Dorner 2200 Series conveyors are perfect for moving small-to-medium parts
Dorner 2200 Series conveyors are available in Canada from Advanced Motion & Controls.
Dorner's line of conveyors is one of many innovative product groups that Advanced Motion & Controls Ltd. makes available in Canada. The latest series of conveyor products that Dorner has to offer is the 2200 Series, which consists of low-profile, high-performance fabric and modular belt conveyors that are ideal for small-to-medium items, as well as precision parts.
Four distinct conveyor designs
Each conveyor in Dorner's 2200 Series has a durable, single-piece frame design, universal T-slots, high-speed nose bar transfer options, and a variety of belting and guiding options available. Other than moving parts, these conveyors are a good choice for a number of applications, like transfers, accumulation, incline/decline routing, positioning, and manual or automated assembly.
Like other Dorner conveyors, these products are built with care and quality, with strong attention to detail, to ensure that they are reliable, durable, and compatible with their respective applications. Industries that will benefit from the 2200 Series include general manufacturing, food processing, the medical sector, metalworking, and pharmaceuticals.
Dormer manufactures four conveyor designs in the 2200 Series:
Belted Conveyors – stronger frame design, better bedplate durability, updated drive and idler tails for easier belt installation, new guide accessories and belt options, and optional nose bars that transfer parts as quickly as 60 metres per minute.
Modular Belt Conveyors – recommended for metalworking, packaging, assembling, and manufacturing. Ladder-style construction for drainage and cooling, additional frame widths, extra guiding and chain options, and consolidated motor and control offerings.
Precision Move Conveyors – designed to move products to exact locations at exact times and positions. Ideal for precision part movement, machine integration, precision indexing, and timed conveying.
Gravity Roller Conveyors – can handle up to 119 kilograms per metre. Includes anodized aluminum tubes with steel ball bearings and T-slots that fit standard M6 square nuts.
Other advantages of Dormer 2200 conveyors: positive belt tracking, even with demanding side loads; precise-rack and pinion-belt tensioning; advanced traffic management; increased efficiency; decreased downtime; and better accuracy. They are also sealed for life bearings and can be custom-designed to tackle any application.
To learn more, contactAdvanced Motion & Controls.