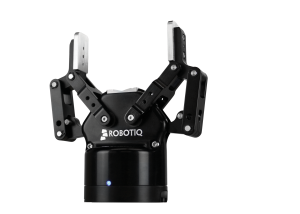 Robotiq grippers are agile, highly adaptable solutions for material handling
The Robotiq 2-Finger 85 Robot Gripper, available from Advanced Motion & Controls Ltd.
Advanced Motion & Controls Ltd. is a major distributor of factory automation products in Canada, particularly robotic equipment for handling and transporting materials. One innovative manufacturer whose products the firm supplies is Robotiq, which makes three styles of robot grippers for industrial workplaces. These servo grippers handle a wide range of parts with a single grasp – eliminating the need for custom tooling and tool-changing systems.
Freeing hands from repetitive tasks
Robotiq's unique robot grippers make material handling efficient and safe for workers by freeing their hands from repetitive tasks. These flexible grippers are very user-friendly and easy to integrate with different robotic systems, as they are designed for compatibility with products from all major robot manufacturers, particularly Universal Robots (UR) arms.
Common applications for which these grippers are suited include machine loading and unloading, bin picking, flexible fixturing for welding, handling fragile parts, and research. Installation is easy, with fast and accessible programming with UR.
Advanced Motion & Controls Ltd. supplies these three Robotiq robot grippers:
2-Finger 140 Robot Gripper. Easy to integrate into all factory automation cells, and able to handle a variety of sizes and shapes. Capable of a wide stroke of 14 centimetres and a payload of two kilograms.
2-Finger 85 Robot Gripper. Similar to the 140, but with a shorter wide stroke and a high payload-to-weight ratio. Long stroke in compact size, with grip detection and full control. Compatible with all robotic systems.
3-Finger Robot Gripper. This rugged and reliable three-finger gripper is the best solution for maximum flexibility and versatility, able to handle a wide range of parts of any shape. Compatible with all robots, the gripper gives users precise control over the fingers.
To see the 2-Finger 85 Robot Gripper in action, take a look at this video:
Robotiq also offers four grip types for its robot grippers: basic, pinch, wide, and scissor mode.
Robotiq robot grippers are just one of the many great automation products Advanced Motion & Controls has provided since 1986.
For more information, contactAdvanced Motion & Controls.