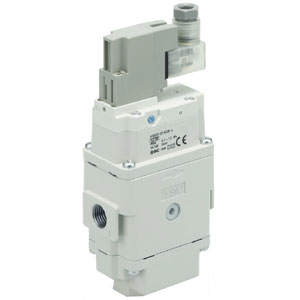 Soft start valves from SMC increase life of compressed-air machines
AV soft start valves from SMC are available from Advanced Motion & Controls.
Machinery powered up and pressurized with compressed air is essential to the work of many manufacturers, but premature wear is a common issue. This is because when machines are restarted after scheduled shutdowns, surges in air pressure spur rapid movements in the actuators, and this causes damage over long periods.
SMC Corporation, an internationally renowned manufacturer of pneumatic products, solves this problem with its AV Series soft start valves. This line of valves, which is available in Canada through Advanced Motion & Controls Ltd., can prevent this unnecessary wear.
Gradual increase in pressure
SMC soft start valves work by slowly, incrementally increasing air pressure during start-up until reaching a 50 per cent pressure threshold. Then the main valve opens to pressurize the machine's air system completely. This allows downstream components to move into their proper positions slowly and enable opposing air pressure to accumulate in the actuators, creating sufficient air volume to protect the machine from runaway cylinders. This soft start avoids the potential damage or even dangers of harsh air surges.
The AV Series of soft start valves includes:
AV 2000/3000/4000/5000-A Soft Start Valve – Greater flow and energy efficiency than those of SMC's earlier AV series. White colour matches current FRL colour scheme.
AV 2000/3000/4000/5000 Soft Start Valve – Large, effective flow area and two electrical entry options, grommet and DIN connectors. Port sizes of 1/4, 3/8, 1/2, and 3/4.
AV 2000/3000/4000/5000 Soft Start Valve with Lockout – Special lockout function allows safe servicing of equipment after the shutting off of the pneumatic supply. Includes a large red button on a yellow design to help identify the valve as a pneumatic disconnect. Multiple operating voltage choices available. Two electrical entry options, DIN or M12 connector.
Each valve also has a modular assembly with FRL units and an operating pressure ranging from 29 to 145 psi. Each uses a flow direction of left to right and right to left.
To add years of service to compressed-air machinery and avoid the risks of excessive air surges, trust SMC's soft start valves.
For more information, contactAdvanced Motion & Controls.