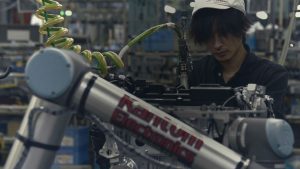 The many great advantages of robot arms from Universal Robots
Advanced Motion & Controls Ltd. is Canada's first and foremost distributor of Universal Robots products.
Universal Robots (UR) has revolutionized the automation world with its unique robot arms, or "cobots", which are now used in 23,000 production environments in more than 45 countries. Available from Advanced Motion & Controls Ltd., Canada's first and foremost UR distributor, these robot arms offer the advantages of state-of-the-art robotic automation, but without the extra costs.
UR's cobots bring so many benefits to the world of manufacturing that they transform the whole working environment and provide a full return on investment within a few months.
Cost-effective, safe, and flexible
UR robot arms are lightweight, flexible machines that automate tasks in a wide variety of applications in many industries, from small machine shops to large automotive assembly lines. The manufacturer identifies four key benefits of cobots:
Easy programming. Even workers with no programming experience can set up and operate these robot arms, thanks to UR's patented technology, which includes intuitive, three-dimensional visualization. Users can touch the keys on the touchscreen tablet to move or program the robot, or just manually move the arm into the desired position.
Quick setup. It used to take weeks to install robotic equipment into an industrial environment; with cobots, it can be as quick as a few hours. Any untrained operator can unpack and mount a new cobot, and then program a simple task, all in less than an hour.
Flexible deployment. Users can easily re-deploy cobots to many different applications without changing their production layouts. These agile, space-saving robot arms can perform functions with small batches or quick changeovers; they can also reuse programs for recurrent tasks.
Safety. Cobots' safety systems have been certified by the German Technical Inspection Association, or TÜV. Manufacturers can eliminate repetitive strain and other types of occupational injury by replacing workers with robot arms in dangerous, dirty, strenuous, or repetitive tasks. No safety guards are required, as cobots automatically stop when making contact with a worker.
In addition, a cobot requires minimal maintenance, and a user can expect to get a minimum of 35,000 hours of working life out of it.
For more information, contactAdvanced Motion & Controls.