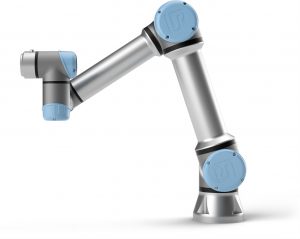 Universal Robots' new series is faster, simpler, and more versatile
UR's new e-Series of collaborative robots, available from Advanced Motion & Controls Ltd.
For the latest advances in collaborative robots, companies rely on Universal Robots (UR). This manufacturer, whose automation solutions are available in Canada from Advanced Motion & Controls Ltd., has mastered the art of industrial robotics with mechanical arms known as "cobots", which automate tasks across a wide range of sectors.
Now, UR has launched a new cobot series that make plant automation even easier. The e-Series promises quicker deployment, unparalleled simplicity, and wider application coverage.
Offering five key benefits
The UR e-Series family consists of three new collaborative robots of varying sizes, each with the same high level of precision, accuracy, and reliability:
Recommended for high-precision applications and light assembly tasks. Payload of three kilograms (kg); reach radius of 500 millimetres (mm); 360-degree rotation on wrist joints; infinite rotation on end joint.
Perfect for low-weight processing tasks, with simple programming and quick setup. Payload of five kg; reach radius of 850 mm.
The most powerful in the e-Series. High-precision cobot, perfect for packaging and palletizing in environments with large distances between operating areas. Payload of ten kg; reach radius of 1,300 mm.
The e-Series of collaborative robots from Advanced Motion & Controls offers five notable benefits. First, their flexible deployment allows each to handle an unlimited number of applications. Lightweight and space-saving, these cobots are easy to move between tasks with no need to change production layouts, so users can automate multiple jobs within one facility. Second, they are easy to program. With the patented, extremely intuitive three-dimensional interface, anyone can learn how to program these machines with no prior experience required.
Next, these robots are easy to set up, minimizing deployment time and maximizing productivity. Fourth, the e-Series offers quick payback, bringing all the benefits of advanced robotic automation without the added costs of programming, setup, and safety guarding. And last, by taking over strenuous applications in dangerous environments, these cobots minimize user exposure to safety risks, including dangerous chemicals and gas.
To stay ahead of the automation game, trust in the UR e-Series.
For more information, contactAdvanced Motion & Controls.