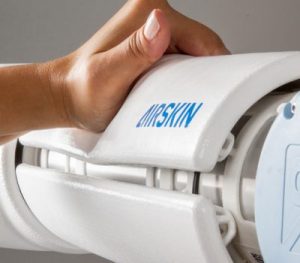 Blue Danube's AIRSKIN helps workers interact with UR robot arms
Advanced Motion & Controls carries AIRSKIN.
Advanced Motion & Controls Ltd. supplies up-to-the-minute automation innovations to manufacturers, including collaborative robots, or cobots, by Universal Robots (UR). To make UR robot arms easier to interact with, the distributor also carries the unique AIRSKIN safety skin by Blue Danube Robotics. This is a comprehensive safety technology to help users work with these robots in cramped environments: cobots can be operated with a simple touch of the hand or arm.
Quick, easy, and user-friendly
Blue Danube's AIRSKIN works with a pragmatic approach. Its collision sensor functions as a safety cover for UR robot arms and grippers. Users install it quickly and connect it directly to the robot controller instead of a safety fence, so it can enable collaborative applications. AIRSKIN also meets high safety standards: it is certified according to ISO 13849 Cat.3/PLe, and it is recommended for ISO/TS 15066-compliant tasks.
Users cover UR robot arms and grippers completely with soft AIRSKIN pads, including clamping and shearing areas. In the event of an impending collision between the cobot and a worker or object, the collision sensor responds by triggering an immediate emergency stop. These soft pads also dampen the impacts of force that could potentially occur until the machine finally stops moving.
AIRSKIN offers many benefits to Advanced Motion & Controls customers. Its design is very user-friendly, with a snap-on system that ensures fast, easy installation. The safety cover not only makes fences unnecessary; it also helps workers use the shop floor more efficiently and improve their machine use as they increase productivity and quality.
Moreover, with the easier cobot use enabled by AIRSKIN, the division of tasks between workers and robots combines the respective strengths of both. Robots can perform simple, repetitive, and ergonomically awkward functions that might injure human workers, allowing the latter to focus on more complex jobs. Following the first successful collaborative application, production staff typically find and implement new application areas for cobots.
To see how AIRSKIN works with UR10 3W cobots, watch this video:
For more information, contact Advanced Motion & Controls.