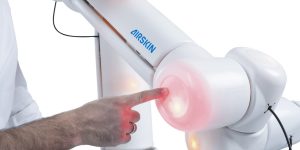 The benefits of Blue Danube AIRSKIN: space, speed, and safety
AIRSKIN makes UR10 cobots much easier to use.
Universal Robots (UR) is revolutionizing manufacturing with its cobot products, or collaborative robot arms. And these robotic units are even easier to use with AIRSKIN, a specialized pressure-sensitive safety skin developed by Blue Danube Robotics. AIRSKIN allows close human-cobot collaboration in cramped environments; users can start, stop, or position cobots merely with a touch of the hand or arm. By distributing both products, Advanced Motion & Controls Ltd. is transforming production environments all over Canada.
An easy, add-on solution
With AIRSKIN, users can increase the productivity of their UR10 six-axis cobot products by allowing a higher safe robot speed. Blue Danube produces several variations of this modular safety skin, such as elbow-to-wrist, wrist pads, and elbow pads. It is a major boon for such applications as screw-driving, pick and place, packaging and palletizing, assembly, machine tending, and quality inspection.
AIRSKIN is an easy, add-on solution available for cobot products and End-of-Arm Tooling. It is made out of sturdy, durable material developed specifically for industrial work environments. The user can install it quickly and easily by connecting six wires directly to the robot controller's safety IOs.
Blue Danube promises three primary benefits from using its AIRSKIN: space, speed, and safety. First, AIRSKIN is the ideal safety solution for cramped work spaces; cobot users can save a lot of space with no need for a fence or laser scanner. Second, this unique product enables workers to increase the safe speed of UR10 collaborative robot arms. In collaborative tasks, speeds of up to 80 centimetres per second are now possible.
Finally, AIRSKIN meets the requirements of the highest international safety standards, like ISO 13849 (PLe), IEC 62061 (SIL3), and ISO/TS 15066. Its autonomous pads run constant self-diagnosis to maintain the highest level of functional safety and to make risk assessment fast and easy.
Advanced Motion & Controls partners with both UR and Blue Danube to supply both products to manufacturers. As production environments continue to evolve technologically and find efficient ways to make products more quickly and safely, Canadian manufacturing will continue to keep pace.
To learn more, contact Advanced Motion & Controls.